We're Getting Mutants in the MCU - The Loop
Play Sound

Valiant-class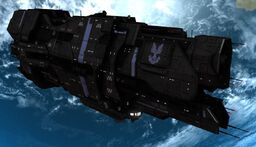 Cost: 1900 | 300 | 150
Build Time:

60

seconds.
Uses:

1 command, 30

supply.
 
Hull:

9000

Armor:

10

Provisions:

6

Experience value:

30

Squadrons:

1

 
MAC Damage:

50

MAC Cooldown:
 
Archer missiles Damage:

30

Archer missiles Cooldown:
 
AA autocannon Damage:

35

AA autocannon Cooldown:
 
Shiva nuclear missiles Damage:

21

Shiva nuclear missiles Cooldown:
 
 

AI Fire Control




Evasive Maneuvers
Incendiary Missiles
Flag Bridge


 
Armored Flagship - One of the largest and most powerful support ships ever utilized by humanity, this combat vessel excels in coordinating fleet combat efforts.
«

I've got enough nukes to pop a star.

An eager Valiant captain ready to unleash hell

»
The Valiant-class super-heavy cruiser is a capital ship in service to the United Nations Space Command.
It excels in fleet command and direct combat support.
Overview
[
]
«

Valiant-class cruisers are incredibly capable combat ships that are usually used as the flagships of small and large fleets alike, primarily due to their impressive command suites.

The Valiant's shipyard description

»
This ship is exclusive to Admiral Cole.
History
[
]
A modification of the versatile Marathon-class cruiser, the Valiant-class was originally going to be scrapped when problems arose with its high cost and delays with installing its next-generation fusion reactors. However, the escalating violence in the early years of the Insurrection forced the navy to refit the design as a command ship, where its impressive fleet management systems made it a favorite among admirals and battlegroup leaders.
This preference remained throughout the Human-Covenant war, with fleet admirals taking Valiant cruisers as flagships. The Valiant proved to be extremely effective against covenant targets and, as such, many battles in which the UNSC won were commanded by such vessels. The UNSC Everest, a modified Valiant was Admiral Preston J. Cole's flagship throughout much of the war. The Everest claimed several important, but often costly, UNSC victories such as the Second Battle for Harvest. Sadly, the Admiral and his ship were reported lost during the battle of Psi Serpentis taking an entire Covenant armada of hundreds of ships with them. This was the fatal flaw of the Valiant: the loss of one such ship was a major setback to the UNSC, requiring valuable resources, time and manpower to replace.
Weapons and Tactical Usage
[
]
Equipped with twin magnetic accelerator cannons, missiles and autocannons like the Marathon, the Valiant packs a punch in direct combat. However her main strengths come from its fleet buff abilities and high damage support weapons.
Flag Bridge

: Under the direction of Admiral Cole, the Valiant-class cruisers that serve directly in his fleets are fitted with mandatory flagship facilities to better coordinate and control fleets. These massive facilities can dramatically increase the effective range and precision targeting of all linked munitions and the added processing capability can more effectively regulate motive power.

Increases the turn rate and damage output of all allied ships in a wide AOE. Available at Level 3 and can be set to autocast.

Evasive Maneuvers

: The Valiant is a naturally resilient starship, but by leveraging its advanced fusion engines, the crew can put it through some remarkable sharp turns and elegant evasive maneuvers. This will drastically increase turn rate and ensure that incoming fire merely glances off the most heavily armored parts of the ship.

Increases turn speed and adds a damage reduction for a short time if it needs to flee or react quickly in combat. Can be set to autocast.

Incendiary Archer Missiles

: The Valiant's Archer missile pods do extra damage. Archer missiles are extraordinarily versatile in the types of warheads they can fit and launch, one of them being vacuum-enhanced incendiary explosives. Equipping the Valiant's archer inventory with these warheads will make all of this vessel's archers do damage overtime to enemy targets, burning through shields and armor alike.

Missiles do additional damage over time.

AI Fire Control

: Although UNSC AI typically contribute to all ship operations at all times, some Valiant commanders chose to release their fire control systems completely into the hands of their AI once battle commences. While the AI manages this system, the Valiant's main engine power will be diverted to weapons in order to achieve superior firing rates. This effect will be shared with any nearby UNSC frigates, which normally lack their own AI.

Buffs the Valiant and nearby allies range and damage, but at the cost of speed and other penalties.
These ships high cost makes them a heavy loss if destroyed, and are best kept at the center of the fleet, aiding her allies with support abilities and softening up the enemy with their nukes. It is likely best to have one to two in a fleet (depending on size and intended purpose) and have them kept to the rear of combat. Due to their abilities, these are perfect for Cole's tactic, as they improve rate of fire and damage of all ships within a certain range. A skilled player can also made excellent use of the AI Fire Control ability: while setting it to autocast is rarely a good choice, using this ability at the right moment can devastate enemy fleet with an impressive firepower.
Gallery
[
]
Trivia
[
]
The captain's voice line about the onboard nukes references Cole's infamous use of nukes at the Battle of Psi Serpentis to create a micro-nova and wipe out a massive Covenant fleet.

However, it is slightly erroneous: Viperidae is a gas giant planet rather than a star. It did become a brown dwarf star for a brief time when the hydrogen gas in its atmosphere was ignited by the nukes.
Credits
[
]
New Model - Malcontent1692
New Texture - Malcontent1692
Old Model - Annihilater102
Old Texture - Annihilater102
External links
[
]
See also
[
]